Annoying Orange-pult or AO-pult for short is a very annoying plant. He is friends with
Weed Gatling Pea
and
Blover
. He first appears in
Issue 18: Annoying Day
.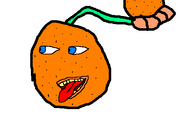 Personal Info
Edit
Age: 17
Gender :Male
Amount of times killed: IT'S OVER 9000! (9001)
Favorite food and drink: Fertilizer and Soda?
Nickname: Orange
Enemies : Winter Melon and Apple-Pult
Characteristic: Funny, stupid & VERY 'A'nnoying
He is based off the popular video series, Annoying Orange.
Coffee BAM! uses him as the main character sometimes.
He isn't in the original game.
Ad blocker interference detected!
Wikia is a free-to-use site that makes money from advertising. We have a modified experience for viewers using ad blockers

Wikia is not accessible if you've made further modifications. Remove the custom ad blocker rule(s) and the page will load as expected.