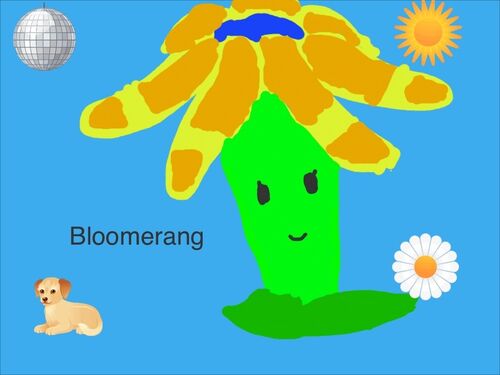 Bloomerang is a PvZ2 plant. She first appeared in the comic Bloomerang's Here.
Gender: Female
Age: 12
Friends: Power Lily, Blover, Sunflower, Bonk Choy
Enemies: Iceberg Lettuce
Likes: Reading, doodling, riding a bicycle, horseriding, hanging out with her friends, discussing about the Zombies R Our Friends Club, pizzas, nachos, cupcakes. Bloomerang's dedicated to have lots of hobbies.
Dislikes: People ripping paper (that's just cruel), wasting stuff.
Secret: Bloomerang and Bonk Choy are secretly dating!
Fave Books (she is DEDICATED to reading):
Harry Planter
Diary of a Wimpy Plant
Dork Plant Diaries
Twice Upon a Plant
Plant Your Path
And much more...
Bloomerang is a girl in Blover's Komiks.
Quote: 'For the 10000th time, I am a FEMALE!'
Quote: 'Can't stump the Trump!'
Ad blocker interference detected!
Wikia is a free-to-use site that makes money from advertising. We have a modified experience for viewers using ad blockers

Wikia is not accessible if you've made further modifications. Remove the custom ad blocker rule(s) and the page will load as expected.