Fire Pea is a character made by Luning Liu (User: Bloomerang). He is a great friend of Blover, Weed GP and Fireworks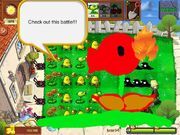 Pea. In fact, this guy looks very similar to Fireworks Pea, but have a fire at his back instead of a fireWORK. For some very funny reason, he is a made character in PvZ2, not like the other made characters.
Gender: Female
Age: the same age as Weed GP
Friends: Blover, Weed GP, Fireworks Pea, Bloomerang
Enemies:
Flaming Pea's whole head is read, and his stem is green.
There is a flaming fire on the back of his head
Ad blocker interference detected!
Wikia is a free-to-use site that makes money from advertising. We have a modified experience for viewers using ad blockers

Wikia is not accessible if you've made further modifications. Remove the custom ad blocker rule(s) and the page will load as expected.