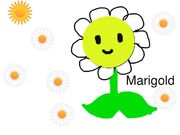 Marigold
is
Sunflower's
younger sister. Her enemy is
Gold Magnet
because he always takes her money but Marigold doen't know he does it on accident.
Personal info
Edit
Type: plant
Age: 10
Personality: Docile, quiet and understanding
Interests: Money, MONEY, MONEY, IT'S SO FUNNY, IN THE RICH MAN'S NOSE
Enemy : Gold Magnet
Killed: 1
She was accidentally killed by Fume-shroom because of Fume-shroom's sugar rush making him shoot one of his most heaviest fumes at her in Fume Shroom's Sugar Rush.
She is madly in love with Fume-shroom.It is pretty obvious in some issues
Ad blocker interference detected!
Wikia is a free-to-use site that makes money from advertising. We have a modified experience for viewers using ad blockers

Wikia is not accessible if you've made further modifications. Remove the custom ad blocker rule(s) and the page will load as expected.