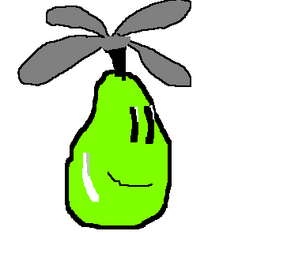 Pearicopter is a PvZCC character made by
Zomboss
,he studies in the same university as
Weed Gatling Pea
so he can pass to the Military Complex, he is also a good friend with
Annoying Orange-pult
which he simply calls orange. Pearicopter looks for that "Special Someone"
Type: Plant
Age: 18 years old
Favorite Food and drink: Cheeseburger without vegetatian parts (that would be cannibal),and water.
Characteristic: Wise,becomes crazy crack at 10 pm
Enemies: None,but he has a Phobia with Fog.
Gender: Male
Nickname: Pear,By Annoying Orange-pult
He appears on issue 17 (for the first time).
At 10 pm,he becomes very insane,he will start spitting seeds everywhere,and will become selfish like:"THAT'S MY PROPELLER CAP" "THAT'S MY HELMET!" etc...
Ad blocker interference detected!
Wikia is a free-to-use site that makes money from advertising. We have a modified experience for viewers using ad blockers

Wikia is not accessible if you've made further modifications. Remove the custom ad blocker rule(s) and the page will load as expected.