Power Lilly is in love with Coconut Cannon, but Coconut is in love with PvZ2's Sunflower. Power Lilly is friends with everyone except the Acient Egypt Zombies (they give her the creeps). Lots of PvZ1 characters don't know what does Power Lilly do, because in the first game of Plants Vs Zombies, there are no Plant Food. Power Lilly wish for peace.
Gender: Female
Age: 12
Friends: Everyone
Enemies: Acient Egypt Zombies
Trivia
-Power Lilly works at a bakery, and is great making Chocolate Cupcakes (Mmmm, Bloomerang's favorite!)
-If you look closely enough at the picture of Power Lilly, she actually have yellow eye shadow.
-Power Lilly is very fond of her appearence.
-Power Lilly's info is based deeply on Ellie Chao, Luning Liu's best friend. Luning is User: Bloomerang, but Ellie doesn't have an account yet.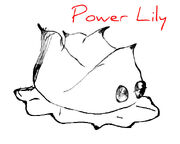 Ad blocker interference detected!
Wikia is a free-to-use site that makes money from advertising. We have a modified experience for viewers using ad blockers

Wikia is not accessible if you've made further modifications. Remove the custom ad blocker rule(s) and the page will load as expected.