"That Chat" is a comic in Issue ___, Season __ .
Synopsis
Edit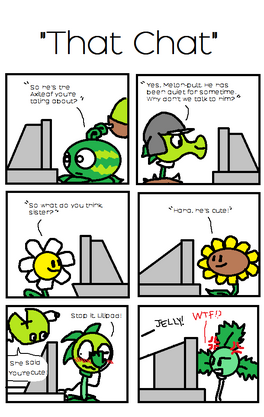 Melon, Weed GP, Marigold, Sunflower, Axileaf and Blover are in a group chat. Melon asked Weed GP about Axileaf. Margold asked her sister about her comment on Axileaf. Sunflower responded "he's cute". This leaves Blover feeling pissed off.
Dialogues
Edit
Melon-pult: "So he's the Axileaf you're talking about?"
Weed GP: "Yes, Melon-pult. He has been quiet some time. Why don't we talk to him?
Marigold: "So what do you think, sister?"
Sunflower: "Haha, he's cute!"
Lilipad (Axileaf's flying Lily Pad): She said you're cute."
Axileaf: "Stop it, Lilipad!"
Blover: "WTF?!"
Some random voice: "JELLY!"
The word "Jelly" is often a slang and a shortened word for "jealous".
Lilipad is a corruption of "Lily Pad" and a pun on a translation of the word for fly, thus a Lily Pad with wings.
Blover was somewhat upset of Sunflower calling Axileaf "cute". Another reference of him being in love with Sunflower.
Ad blocker interference detected!
Wikia is a free-to-use site that makes money from advertising. We have a modified experience for viewers using ad blockers

Wikia is not accessible if you've made further modifications. Remove the custom ad blocker rule(s) and the page will load as expected.