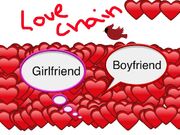 We've known that Blover and Sunflower were in Love, but there is also another relation. The relation is kinda different with Blover and Sunflower. The user who had the Idea of this Love Chain is
CattailsWelove
(Thanks to you!)
The Love chain:
Marigold love Fume-shroom love Red-point Tulip love La Rosa love Arelon's Shine love Weed Gatling Pea love Marigold love Fume-shroom, and so on.
Ad blocker interference detected!
Wikia is a free-to-use site that makes money from advertising. We have a modified experience for viewers using ad blockers

Wikia is not accessible if you've made further modifications. Remove the custom ad blocker rule(s) and the page will load as expected.